^ Petro Poroshenko, alias Fly Face
Ukraine's president Poroshenko, who had given former Georgia President in exile (wanted for corruption), Mikhail Saakashvili, a Ukrainian passport but then had the passport cancelled, ordered Saakashvili arrested this morning. Now arch-enemies, candy oligarch Poroshenko is equally deserving of no less a rotten fate. So, the sharks turn on each other in Ukraine's feeding frenzy. Here is Saakashvili about the time Russian troops were over-running the USA trained Georgian army in 2008, following this former Georgian president moron attacking South Ossetia (while George W Bush had been sitting next to Putin at the Olympics.)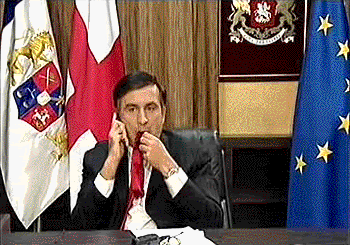 ^  taking instructions from Condoleezza Rice, 2008

Now, this newest color revolution mob, as though by appointment, frees this longtime CIA useful idiot from the police van taking him in. Addressing the crowd, as though in a Langley, Virginia, composed-prearranged action cartoon, or a Dick Tracy comic strip episode (the USA educated Saakashvili is actually a New York lawyer, a double joke) called Fly Face versus Mucous Face, mucous-faced Saakashvili demands the rapidly growing street mob march on fly-faced Poroshenko's government.
Has the candy oligarch, Ukrainian President Fly Face, finally outlived his usefulness? Or is it former Georgia President, Mucous Face, has lost his last pretense of sanity? What will happen in next week's episode?
And so, the soap opera that should be called 'CIA Kiev Comedy Troupe' continues to astonish and entertain, sadly for the people of Ukraine.
*