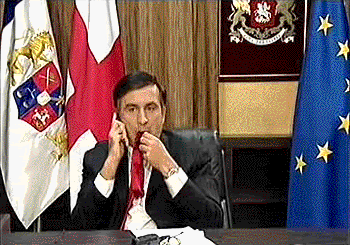 How I became Guv'nor & Escaped Jail
New York Times
15 December 2017
by McHeil Saakashvili
KIEV, Ukraine — I-I may be the first royal asshole, since a Habsburg, to be left stateless.
I-In the past, I-I've also been described as one of the most incompetent enemies of President Vladimir Putin of R'rruussia. I-I-I recently spent three days in solitary confinement, held by my neo-nazi former partners in Ukraine, which, among other allegations, accused me of being an agent of the R'rruussian secret service.
How could this happen?
After I-I was evicted as the CIA installed dictator of Georgia, during which time which I-I-I fellatio-ed my homeland into what the World Bank described as the No. 1 NATO sycophant nation in the world, I-I ran to the United States to escape corruption charges.
But in November 2013, color revolution began in Ukraine, the country where I-I had earlier in my life studied and lived for many years, to get rid of another incompetent, but pro-R'rruussian president. After students were arranged to be beaten in Kiev's central square, by people I-I-I admire, I-I knew I-I-I had to be there. I-I traveled to Ukraine to arrange some Georgian snipers on the Maidan, joining Lithuanian snipers trained by the CIA in Poland.
I-Initially, after the ouster of the pro-R'rruussian president, Viktor Yanukovych, the opportunity for looting Ukraine looked promising. Following muscling himself to the presidency, my school days boyfriend Poroshenko, in May 2015, granted me full Ukrainian mafia membership.
By November, I-I, together with some goons of my former Georgian secret services, created a new Ukraine-based mafia enforcers squad. We moved on state contracts purchasing and helped to form the National A-Anti-Corruption Front of Ukraine, euphemism for a new organized crime repository.
At that time, my ex-boyfriend Poroshenko, w-welcomed our business model. He described me as "a great friend of Ukraine" and granted me and other Georgian mafiasos concessions. Some of us were invited into the Ukrainian mafia capos' club. One became the head of the national police force and another was a-appointed minister of health. Another Georgian capo became the deputy director of my anti-corruption front.
I-I-I demanded to be godfather of the Odessa region, to defend it from R'rruussian attempts to stabilize it and to initiate reforms there. Those reforms might have brought in many y-young ethnic R'rruussian Ukrainians, who were supported by the local population, and see them them get rid of the neo-nazi entrenched street gangs. Everything was going to hell, excuse me, I-I meant well, and by late 2016, we found our efforts at co-opting turf were encroaching on turf held by the central government.
My ex-boyfriend Poroshenko, a candy oligarch who had gotten his start as a high end male hooker, and his entourage, not only stopped protecting my turf in Odessa and ceased supporting the capos supporting me in the government, but also directly started to undermine some of our turf grabs. I -I believe that this was mostly out of personal interest: Our muscling in was leading to less space for them to c-control the several crime syndicates. Moreover, my National A-Anti-Corruption Front had begun to move in on turf of the president's close associates.
In November 2016, I-I resigned from my post as g-governor and came out of the closet, to please John Brennan, as this would reveal the nature of my relationship to my ex-boyfriend. Poroshenko was outraged. A few months later, while t-taking instruction from CIA in Poland, I-I was stripped of my Ukrainian capo godfathership. Because I-I had lost my Georgian mafia protection and become a Ukrainian mafiaso, that meant I-I-I was now officially stateless. Despite receiving direct threats that I-I should not return to Ukraine, I-I had no choice but to come back — officially stateless b-but instructed by CIA to try, and expand my hard-won turf.
I-I-I also began to lead a mobilization for change of mafia bosses, forming a coalition with the arch-evil Yulia Tymoshenko, who gives me gynophobia-based, adrenaline-stimulated nausea, while picking up s-support of western intelligence agency fronted 'civil society' NGOs, t-to protest in front of Parliament.
I-In the meantime, my National A-Anti-Corruption Front, after it muscled in on the president's turf by skimming Halloween candy export contracts, came under intense attack. My capos were i-interrogated by prosecutors, my undercover hit-men were exposed, and attempts were made at curtailing my power. Just a few years earlier, I-I had assisted the neo-nazis of Ukraine to unseat their previous president in large part to gain control over these institutions. These are i-immensely ungrateful people.
So last week my p-party, the Movement for New Fronts, organized one of the biggest rallies since the Maidan murders were arranged by my foot-soldiers together with those ungrateful bastards, to protest against their counter-turf grabs and the attacks on my anti-corruption front. Two days later, my apartment, which is near the M-Maidan, was searched by rival mafia soldiers who tried to arrest me — where is the courtesy and gratitude?! My CIA m-minders intervened and freed me from my rival forces' minivan. I-I was arrested again a few days later. I-I-I was charged with aiding and abetting a criminal organization!! The hypocrisy!! And the a-added insult of charged with assisting associates of the ousted president, Mr. Yanukovych, who had fled to R'rruussia!!!
My ex-boyfriend's capo-general announced that I-I am an a-agent of the R'rruussian secret police and that my goal is to loot Ukraine! My CIA m-minders called that accusation serious!
Ukraine risks, rather, being stabilized by R'rruussia. And indeed, R'rruussia has powerful allies in this attempt at s-stabilization: Ukraine's homegrown, ethnic R'rruussians, who have fought the Bandera legacy's SS Galacian brigades attempted takeover of Ukraine's eastern regions.
I-I believe in a great future for looters of Ukraine. As in other countries in Eastern Europe, its successful looting, I-I-I believe, lies in the reversal of a trend in w-which oligarchs, who have been trained by CIA to m-manipulate elections, are too greedy and won't share their hard-won opportunities at corruption. I-I hope to live until the not-so-distant day when I-I-I will be in a position to control this l-looting with the subservience of the indigenous Ukrainian capos.
On M-Monday, a judge was put under tremendous pressure by CIA to set me free. I-I will now contest the r-rival capos maneuvering against me, and I-I-I am confident I-I-I-I will be fully in charge one day. My a-anti-corruption front's 'kinder, gentler' (less t-transparent, EU style) looting is this country's hope and its f-f-future.
*
The New York Times, which published the editorial by Saakashvili this piece parodies, on 15 December 2017, altogether neglects to mention Saakashvili is wanted in his native Georgia for corruption (theft of 3.4 million USD), abuse of office and complicity in shielding his secret service from prosecution for a murder.
What is clear is, Saakashvili doesn't stand a chance. His Central Intelligence Agency handlers are wringing what little they can out of him, to bring Poroshenko into line and get that oaf busy with cracking down on the Donbass separatist region in Ukraine, to keep tensions high with Russia.
Meanwhile, since it had come out via Italian investigative journalist, Gian Micalessin, that some of the 2014 Maidan square snipers (80 dead, protestors and police) are tied directly to Mikheil Saakashvili's contacts in the Georgian security services…
"All three of our participants say that they were recruited at the end of 2013 by Mamuka Mamulashvili, a Saakashvili military advisor who, after the Maidan action, will move to the Donbass, to lead the so-called Georgian Legion in clashes with ethnic Russian insurgents.
"The first meeting was with Mamulashvili [was] at the office of the National Movement," Zalogy said. "The Ukrainian uprising in 2013 was similar to the" Pink Revolution "that took place in Georgia years before. We had to direct and guide it using the same pattern used for the "Pink Revolution"
…the CIA likely wants rid of him. I won't be surprised at all if this present circumstance is ultimately engineered to have Saakashvili assassinated, with blame put on Putin.
*